Hot Tub Removal Near Me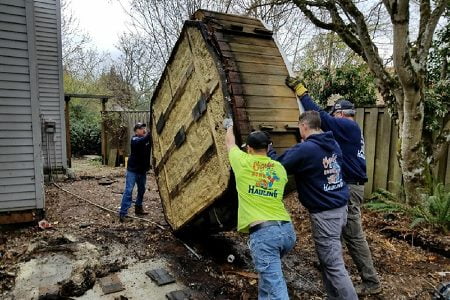 Regardless of your reasoning for wanting hot tub removal in Portland, whether you just moved into a home with a hot tub and want it removed or you wish to replace your old hot tub with a new one, Charlie & Sons can handle the entire removal process for you.
Hot tub removal in Portland, especially the larger ones, can be heavy and awkward to move, especially if you have no experience doing it. Even if you have a large group together, hot tub removal in Portland can be dangerous. You will also have to find a vehicle large enough to carry the hot tub to a designated drop off spot.
By calling Charlie & Sons, you will not have to worry about any of that. We will come to your home, load up the hot tub, and take it away to a proper disposal facility without any hassle on your part.
Hot Tub Removal Service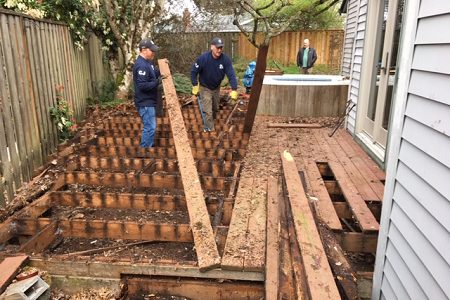 Hot tub removal in Portland can be dangerous if you do not know what you are doing, and you do not want to risk injury to yourself or your friends and family. Some properties are not well-equipped to handle hot tub removal, and the need for a professional service gets heightened.
Our staff has years of experience with hot tub removal in Portland and can provide you with the customer service you deserve. Your complete satisfaction matters the most to us, and we guarantee you will be happy with our service, as we handle every step of the process for you.
If you have an old hot tub sitting around your property that never gets used, free up that space by having it removed. The exceptional staff at Charlie & Sons will have the hot tub away from your property before you know it, and we will make sure the hot tub is disposed of safely and adequately. Give us a call today, and we can get started.
Hot Tub Disposal
While hot tub removal can be a benefit if you have an older, unworking, system, what if it's the only thing in your yard that is in good condition? Not to worry, we can help clean up the yard to match. Whether it's an issue with hoarding, cleaning up after a project, or only getting rid of some excess garbage laying around, our junk removal services in Portland won't be beaten. Give us a call or contact us today to see how we can help you now.