Debris Removal Near Me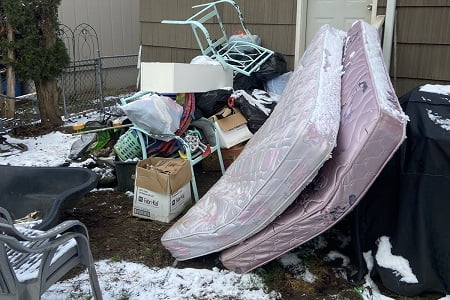 There is a wide range of reasons debris builds up. Old construction materials, trash heaps, future projects, and yard waste are just some of the ways it can grow. You always think you'll tackle the debris next weekend, and before you know it, the task isn't just a one-person job anymore. When property owners need reliable, fast, and affordable debris removal, Camas calls on Charlie & Sons.
Don't let debris harm your property!
Yard debris might look innocent enough, but it can seriously harm your property value. Without debris removal, Camas residents can face some serious and entirely preventable problems.
Without removal, your debris may:
Harbor rats and mice can enter your property, chew wires, and spread disease.
House insects like termites that may spread underground to adjacent structures.
Kill grass and other vegetation leaving behind large dead spots in your yard.
Hold in moisture and cause the growth of spreading molds and bacteria.
Pose a significant liability if someone is hurt by debris when it could have been prevented.
---
Be Pro-active with Professional Debris Removal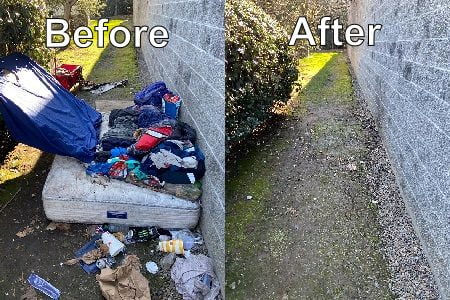 Our removal technicians have been helping renew Camas properties since 1994. We specialize in performing large junk hauling jobs quickly. With the experts at Charlie & Sons, you won't have to worry about property damage or large items. We carefully maneuver large pieces through cramped spaces with ease. We also perform complete disposal operations for things like refrigerators, microwaves, and other items that may contain hazardous materials. This saves you from needing to worry about improper disposal and eliminates the potential for EPA fines.
Whether you need indoor or outdoor debris removal, we have you covered. Our junk removal services are easy to schedule around your needs, so there's no reason to put off clean-up any longer.
Debris we remove includes but is not limited to:
Construction debris
Yard waste
Furniture
Dirt and concrete
Carpet
Large appliances
Hazardous appliances
Scrap materials
Landscape materials
Hot tubs
Sheds
Garbage
Contact us for yard debris removal in Camas today!
It's never too late to start protecting your property with debris removal in Camas. We make it easy, so call or contact us today!