Commercial Junk Removal Services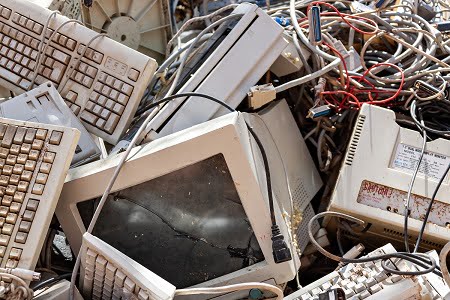 When you need fast, effective commercial junk removal in Portland that leaves your property clean and undamaged, you want Charlie & Sons. Whether you need local junk removal, office junk removal, or business junk removal, our commercial junk removal services are perfect for you. That's because we have more than 20 years of experience providing Portland with commercial junk removal and hauling.
We provide excellent, friendly service and efficient commercial junk removal. No matter the environment or amount of junk, our junk removers can carefully remove even the largest industrial equipment. We frequently specialize in hauling junk that the other companies can't handle. There are several excellent reasons to hire professionals for your commercial junk removal and hauling in Portland.
Professional Commercial Junk Hauling
Time

– When time is of the essence, we pick up the pace. Hauling junk is more than just about moving something from point A to point B. The appropriate equipment and experience ensure a swift resolution to your appliance and junk removal. Our commercial junk removal experts know how to quickly size up a project, determining the best way to get everything out. An understanding of the whole picture is integral to timely commercial junk removal in Portland, and we always look at the big picture.

Safety

– Commercial junk removal often involves navigating close-knit corridors with heavy, large items. We can keep the carpet, walls, and ceilings safe while avoiding injury. Our workers are covered as well. When you attempt to perform these large-scale junk removal jobs yourself, a single injury can halt work and cost big. It pays to let professionals assume the risk, providing you with stress-free commercial junk hauling.

Completion

Our hauling services are comprehensive and thorough. We'll haul away junk of any size and category, even items that need to be recycled. Local junk removal frequently involves the removal of many different item types. From debris removal to furniture removal, our commercial junk hauling services extend to every item on your property. Real estate cleans up is a standard service we do for clients, including cleaning up after contractor work.
---
Commercial Hauling Near Me
Business owners know that first impressions are everything. A cluttered office or storefront can give customers the impression that you are disorganized and unprofessional. By hiring a junk removal service, you can clear out the clutter and give your business a more polished look. Additionally, commercial junk removal services can also help to free up space in your office or store. If you are constantly tripping over boxes or stacking unwanted items on top of each other, it can be very frustrating and make it difficult to get work done.
By decluttering your commercial property, you can create a more efficient and productive workplace. Commercial junk removal services can also help to protect your employees from injuries. If items are stacked haphazardly or left lying around, someone could easily trip and fall. If you've just finished building or remodeling your office, we can take care of the construction debris and yard waste to help you get right back on track. By hiring a professional junk removal company like Charlie & Sons, you can help to create a safer work environment for your employees. From old office furniture to landscape debris, we can handle it all.
Commercial Junk Removal and Hauling Benefits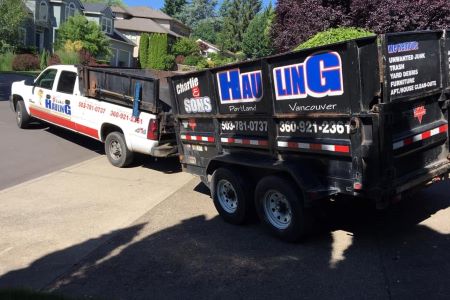 Pest Control – Commercial junk hauling in Portland keeps pests at bay. It doesn't take long before they ruin carpeting, chew through wires, and cause extensive property damage. They thrive in environments where there are lots of areas to hide and habituate. Junk haulers can pick up junk that would otherwise provide a haven to these creatures.
Allergen Removal – Removing junk can also keep allergens at bay. When substances like furniture and paper get wet, they harbor mold and mildew growth. This can easily get behind walls and into vents where you cannot see it. Commercial junk hauling and proper removal of junk keep this from occurring.
Peace of Mind – Junk doesn't just hurt your property value. Commercial junk hauling in Portland can provide peace of mind, knowing that your commercial space is clean and free of scurrying inhabitants and items that harbor damaging microorganisms. A clean commercial space is one you can begin to utilize again, refinish, or even put on the market.
For complete commercial junk removal and hauling in Portland, call or contact Charlie & Sons today.