Junk Removal Services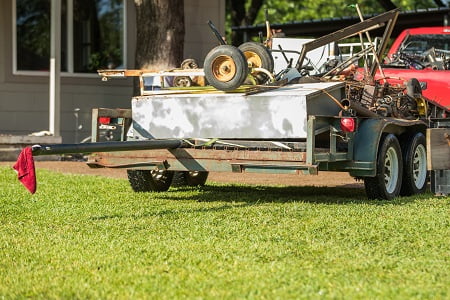 Property owners acquire junk in a variety of ways. A property purchase might come with it, years of collecting may cause a build-up, or previous tenants may leave it behind. No matter how it was acquired, junk can be a nuisance, eyesore, and even a health hazard. You don't have to accept it, and junk hauling in Lake Oswego by the skilled haulers at Charlie & Sons can help.
Don't risk hauling junk without professional help.
Trying Junk removal by yourself can be incredibly dangerous. Even with your strongest friend and neighbors, accidents can still happen. It just takes one misstep to cause a thrown back, injurious fall, crushed appendages, or worse. Some items contain toxic materials. Failing to dispose of these according to government-specified regulations can result in substantial fines. There's no reason to suffer potential financial loss, injury, or worse. When it comes to junk hauling, Lake Oswego residents know that professionals save time, money, and prevent injury. So why risk it?
---
Professional Junk Hauling
We've been performing junk hauling services in Lake Oswego for more than 20 years. When they need junk hauling, Lake Oswego residents trust us for our professionalism, attention to detail, and efficiency. That's because our junk hauling is done right.
Our team shows up every time, on time. We'll never waste yours because we know it's valuable. With expertise that only comes after hundreds of successful junk hauling jobs, we can quickly size a situation and provide an accurate estimate. We remove items with extreme care and skill, especially large pieces, bulky items, and those with sharp corners that can damage property if mishandled.
As junk hauling specialists, we've removed everything from bricks and board to hot tubs. Whether performing exterior or interior junk hauling, we work with skill and efficiency.
Junk hauling includes:
Debris
Furniture
Appliances
Concrete and Dirt
Electronics
Carpet
Construction Debris
Garbage
Household Junk
---
Junk Hauling Benefits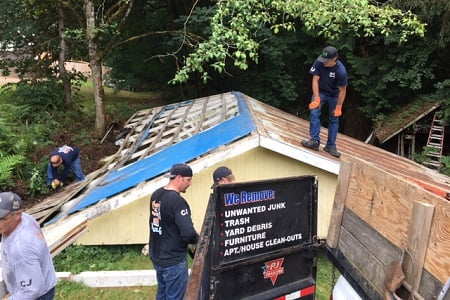 Professional junk hauling in Lake Oswego provides even more excellent benefits.
Allergen Removal – For allergy suffers interested in junk hauling, Lake Oswego services may provide some relief. Two of the dominating factors affecting indoor allergy sufferers are mold and mildew. Wet refuse and garbage containing food can quickly grow these contaminants. Common types of mold that cause severe symptoms like headaches, skin irritation, and worse include black mold. Junk hauling removes these components and reduces allergens.
Pest Control – Whether it's rodents, bed bugs, or others, pests like junk. It provides them with great hiding places and the ability to build a nest undisturbed. This can often lead to expansion. They frequently track bacteria, allergens, and waste throughout a property. When our junk hauling removes hiding areas, it makes a property much less likely to be infested.
Inner Peace – There's nothing like the feeling you get when your property is reclaimed from junk. Whether it's a rental, apartment, or home, a junk-filled house harms the owner's emotional state. Our services remove clutter and regain control of your property.
We safely and legally dispose of all toxic items like TVs, microwaves, and washers. This removes the burden from the property owner and allows them to rest easy. We believe in protecting the environment and follow all state regulations regarding disposal.
With careful haulers, fast service, and affordable pricing, for the best junk hauling in Lake Oswego call or Contact Us today.
Get Junk Hauling Services in