Junk Removal & Hauling
It's easy to accumulate junk over time. Whether it's yard debris, a few boxes of old clothes, or even just a few extra knick-knacks, junk can quickly add up. And while it might not seem like a big deal at first, eventually it can become a real problem. Not only is junk unsightly, but it can also be dangerous. Piles of clutter can provide hiding places for pests, and if left unchecked, may even lead to fire hazards.
If you find yourself drowning in unwanted junk, you need help to get rid of it safely and responsibly. You need a friendly and efficient junk removal service – and Charlie and Sons is just the place to look. We offer everything from commercial junk removal to property cleanouts and hot tub removal.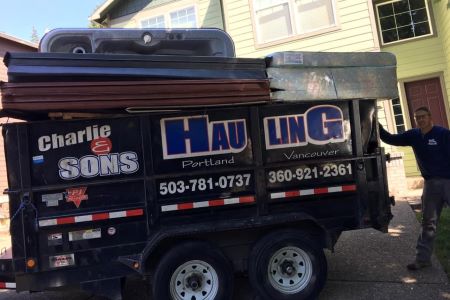 Waste and Junk Removal
A house full of junk is a house that feels out of control, and that feeling can be debilitating. That's where our company comes in. We specialize in removing junk from rental properties so that you can reclaim your house and your peace of mind. Our services are fast, efficient, and affordable, so there's no reason to wait. Give us a call today and take back control of your property.
We pride ourselves on our ability to handle any junk removal job, no matter how big or small. Our team of experienced professionals has been working in the industry for years, and we have the skills and knowledge to tackle even the most challenging projects. We're also fully insured and licensed, so you can rest assured that your property is in good hands. Whether you need to get rid of an old mattress or a large piece of construction debris, our affordable junk removal services are the best way to make sure the job is done right.
Full-Service Junk Removal
At Charlie and Sons, we believe in being good stewards of the environment. It's our responsibility to protect the environment, and we take that responsibility seriously. That's why we safely and legally dispose of all toxic items and recycle what materials we can, such as scrap metal. This removes the burden from the property owner and allows them to rest easy. We follow all state regulations regarding disposal and go above and beyond to ensure that everything is disposed of properly and in the most eco-friendly way possible. Whenever we remove recyclable materials, we make sure they're recycled.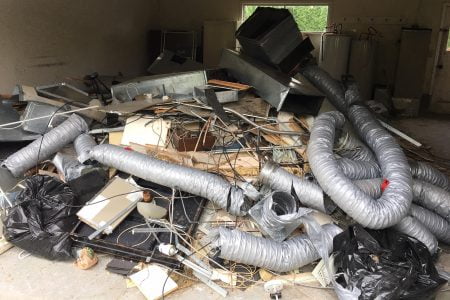 You might be tempted to attempt removing your unwanted clutter on your own, but it's important to remember that junk removal can also be dangerous. If you're not careful, you could easily hurt yourself while trying to lift heavy objects or maneuver them through tight spaces. Moreover, sharp edges and other hazards can present a severe threat if you're not paying attention. Let us do the heavy lifting for you. Whether you need removal of large, bulky household items, old appliance removal, or simply want to clear out some clutter, our amazing junk removal service can help.
If you're looking for a company you can trust to dispose of your unwanted items, look no further than Charlie and Sons. With our years of experience in the junk removal business, we'll take care of the heavy lifting and ensure that everything is taken care of safely and legally. Customer satisfaction is our ultimate goal, always. Check out our site today to learn more about our affordable junk removal services, or contact us to get a price estimate.