Estate Clean Outs
When you're dealing with a recently-vacated property, you know how big the task of cleaning it can seem. On top of the stress of selling that property, you have to deal with cleaning up after the previous occupant. This is where cleanup services can help you out. And when you need professional estate cleanout services, you can count on our expertise at Charlie and Sons.
We specialize in performing complete estate cleanups, no matter the size or extent of the situation. We've seen it all, from single bedroom apartments to multi-floor mansions, and we know how to handle any size job quickly and efficiently. In many cases, we can even have the entire property cleaned up in a single day. So if you're ready to get your property back on the market as soon as possible, give us a call. We're here to help.
---
Cleanout Services
As any property manager knows, property clean-up is a never-ending job. When a tenant moves out and it's time to clean up, the task can seem overwhelming or even impossible, especially if said tenant wasn't tidy. Luckily, you have us on your side. We're the best choice for property cleanout services in Gresham, and we're dedicated to keeping your property looking its best.
We offer a wide range of services, from property cleanout to debris removal, and we're always available when you need us. Customer service always comes first for us; we always strive for the very best customer experience. Whether you need old furniture removal, a cleanout for your commercial properties, or cleanup of yard debris, Charlie and Sons can handle it.
---
Junk Removal and Hauling
A cluttered home can be both unsightly and dangerous. If you have broken or unused items taking up space in your home, it's important to get rid of them as soon as possible. Not only will this free up space for future use, but it will also help to prevent accidents. Our team of junk removal specialists is dedicated to helping you reclaim your home. We'll do it all – there's no need for you to risk hurting yourself by moving heavy junk appliances when the pros will take care of it. We also recycle everything we can where possible, keeping hazardous materials out of landfills.
We will work directly with you to ensure that all of the debris is removed safely and efficiently. And because we believe in transparency, we will keep you updated on our progress every step of the way. So if you're ready to declutter your property, give us a call today. We'll have your home looking its best in no time.
---
Debris Removal Near Me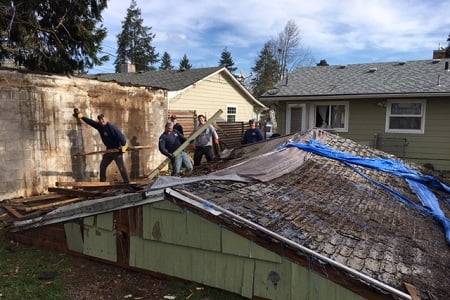 As anyone who has ever moved knows, getting rid of unwanted junk can be a major hassle. Whether it's an old piece of furniture that's taking up space in your home or a broken appliance that you no longer need, getting rid of debris can be time-consuming and frustrating. Fortunately, there are companies like ours that specialize in junk removal.
We'll work directly with you throughout the entire process to ensure that all of the debris is removed from your home quickly and efficiently. We'll even load it up and take it away, so you don't have to worry about a thing. In addition, our knowledgeable staff prioritizes customer service, so you can rest assured that your junk will be removed safely and correctly, to your complete satisfaction.
So if you're looking for a hassle-free way to get rid of unwanted junk, give us a call today. With over 20 years worth of happy customers and countless service jobs to back us up, you can trust us to get your property cleaned up and ready for whatever comes next. Give us a call to get started!