Real Estate Cleanup Service Near Me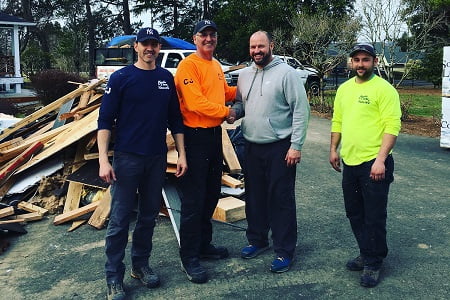 For transformative real estate clean out in Gresham, you want Charlie & Sons. Whether you are a landlord, real estate agent, or financial institution, you're in the business of property. Not every tenant takes good care of your Gresham real estate. Abandoned properties can invite squatters as well as vandalism. These situations often catch you unaware, when prospective buyers are just days away from a viewing. Don't worry. Contact Charlie & Sons. We're real estate clean out experts. With all our own equipment, we perform extensive clean outs on all property types. From yard debris, to interiors, we can even disassemble and remove hot tubs.
Comprehensive Real Estate Clean outs
There are a number of excellent reasons to get real estate clean out in Gresham from Charlie & Sons. Just like all tenants are not created equally, neither are all real estate clean out companies. When you need quick, reliable real estate clean out services that cover every area of your property, we're there in a flash.
Why choose us?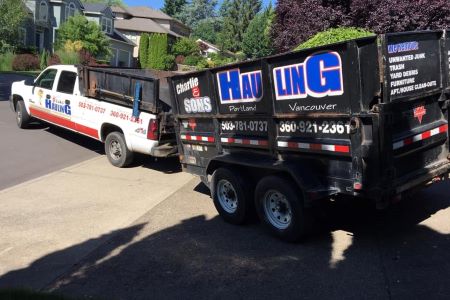 Experienced Real Estate Cleaners – With over 20 years in the business there's no challenge our technicians haven't overcome. Inexperienced clean out companies frequently encounter situations they don't know how to handle. They make you wait while they figure out how to resolve a situation. We never make you wait because time is often of the essence. Our breadth of experience and knowledge regarding clean out hazards is vast. A Charlie & Sons clean out specialist never tells you they can't get the job done.
Efficient Real Estate Clean out – When it comes to real estate clean out it's easy for a property owner to think they have a handle on it. Looking at every room individually makes the job seem smaller. Heavy appliances always seem like a snap until an owner tries to lift one. This can easily lead to missed deadlines or injury. Our team is skilled at efficient, safe clean out practices. Our whole team works on every property and we can give you an honest time estimate. Don't lose money on a missed opportunity. We do clean outs fast and right.
Hazardous Appliance Clean out – There are protocols that have to be taken with appliances. Many appliances contain hazards like mercury. They must be disposed of correctly. Failing to do so can result in huge fines, and even jail time. With the rise of computer controlled electronics there are even more opportunities to unknowingly violate these laws. We know how to properly dispose of hazardous appliance materials. We also assume all the risk on your behalf. That saves you time and keeps you on the right side of the law.
We've performed real estate clean out in Gresham, OR for everything from two room houses to multi-floor mansions. Larger properties mean even more space for trash accumulation requiring clean out. We're so good at what we do we often finish a real estate clean out in a single day. When you need experience, efficiency, and honest real estate clean out, Call (503) 781-0737 or Contact Charlie and Sons today.