Have you ever wondered what to do with that old furniture, broken appliances, or piles of unwanted junk taking up space in your home? Well, you're not alone. We all accumulate junk over time, and at some point, we need to get rid of it. That's where junk hauling comes into play.
But what exactly is junk hauling? Simply put, it's the process of removing and disposing of your unwanted items professionally and efficiently. It involves everything from picking up your junk to responsibly disposing or recycling it.
In this article, we'll delve into the ins and outs of junk hauling – how it works, what they'll take away (or won't!), how fast they can clean up your space, and even what role you have in the process.
What Is Junk Removal?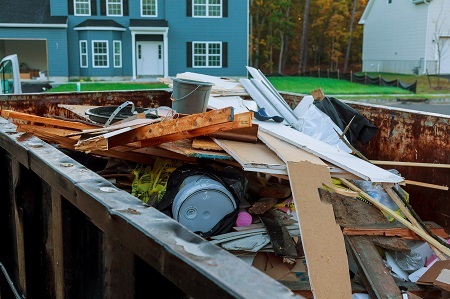 Junk removal, you see, isn't just the act of throwing away unwanted items; it's a comprehensive service that involves the collection, transport, and disposal or recycling of waste materials from homes, businesses, or rental properties.
You might be dealing with old furniture, appliances, electronics, or garden waste – junk haulers can handle all these and more. They'll come to your location, sort through your junk for items that can be donated or recycled, and then responsibly dispose of the rest.
It's not only convenient but also eco-friendly because it reduces landfill waste. If you're doing a big clean-out or renovation project, don't stress about who's going to take care of all that junk. Hire a professional junk hauling service to handle it for you.
How Does Truck Hauling Work with a Professional Junk Removal Company?
When it comes to truck hauling with a reliable junk removal company, the process typically involves several steps. First, the customer contacts the company to schedule a pickup and provide details about the items to be hauled away. The company then dispatches a team of professionals to the customer's location with a suitable truck. The team will assess the items and determine the best way to remove and load them onto the truck. They may disassemble large or bulky items, use dollies or ramps for heavy objects, and take precautions to protect the property from damage. Once everything is loaded onto the truck, the team will ensure that the area is clean and tidy before departing. The truck will then transport the junk to the appropriate disposal or recycling facility, adhering to all local regulations and guidelines.
Overall, a truck hauling with a professional junk removal company offers a convenient and efficient solution for removing and disposing of unwanted items.
What Will Junk Hauling Companies Take Away?
If you've got a mountain of unwanted items cluttering your space, rest assured waste removal companies are more than willing to take most of it off your hands. They'll haul away old furniture, appliances, mattresses, electronics – pretty much anything you no longer need or want.
Some junk hauling companies will haul large appliances such as refrigerators or air conditioners.
Did you get some leftover construction debris from that home improvement project? They can handle that, too. Yard waste, including branches and clippings, can also be taken care of.
However, don't assume they take everything. Typically, hazardous materials like chemicals and certain types of batteries aren't accepted due to safety reasons. It's always best to check with the company first about their specific policies.
Remember, this service isn't just convenient; it's also a responsible way to dispose of junk while protecting the environment.
What Won't Junk Hauling Companies Take Away?
While most of your clutter can be whisked away by waste removal services, there are certain items they're typically not equipped to handle. Don't expect them to take hazardous materials like paint, oil, asbestos, or chemicals. These substances pose serious risks and require specialized disposal methods.
Lastly, medical waste is off-limits, too – it's illegal for anyone but approved professionals to dispose of this material. So before you start piling up your junk for removal, it's worth checking what your chosen company will and won't take away.
How Fast Can a Junk Removal Company Remove My Junk?
You'll be amazed at how swiftly a waste removal company can clear out your unwanted items! These professional teams work quickly and efficiently, often completing jobs in just a few hours.
It all depends on the size of the job, though. For instance, if you're clearing out a small garage or decluttering a room, they might finish in an hour or two. Larger projects like whole house cleanouts may take a day or more.
What's even better? Most companies offer same-day or next-day service. So, if you're in a rush to get rid of that junk, they've got you covered! Remember to always communicate your timeline when scheduling so they can accommodate you as best as possible.
With junk hauling services, fast and efficient rubbish clearance is literally just one call away!
What Do I Need to Do During the Junk Hauling Process?
Now that we've covered how quickly a professional junk removal service company can clear out your unwanted items, let's talk about what your role is in this process. Don't worry, it's not as daunting as you might think!
Here are the four simple steps you need to follow during the junk hauling process:
Identify all the junk you want removed. This could be anything from old furniture and appliances to yard waste or construction debris.
Get a quote. Most companies will give you an estimate based on the amount of junk and its type.
Schedule a pickup time that suits your routine.
When they arrive for pickup, just guide them to where your trash is stored.
Remember: Efficient preparation ensures smooth operation!
Charlie & Sons Hauling Will Haul Away All of Your Junk
Over time, the mess on your property can start to stick out like a sore thumb and even pose a risk to your well-being. And as the days turn into weeks and the weeks into months, getting rid of all that junk becomes an increasingly daunting task. But fear not! Instead of letting your junk pile up, why not give the experts a call? At Charlie & Sons Hauling, we're the masters of junk removal, tackling everything from tearing down old sheds to hauling away heavy items like hot tubs and washing machines. We provide residential and commercial junk removal. We're here to provide the finest junk hauling services that Gresham residents can always rely on.
Contact us today for professional junk haulers.
Junk we remove:
Furniture Removal Services
Trash Removal/Garbage Removal
Yard Debris Removal
Junk Appliance Removal
TV Removal
Tire Removal
And More
Visit our About Us page for more information about our hauling company.