Yard Debris Removal Service
Most homeowners take pride in keeping their yards clean and tidy. However, yard work can sometimes seem like a never-ending chore. You need to rake leaves, trim branches, and mow the grass regularly. And then you have to haul away the extra yard waste! Sometimes your local waste management services won't take these extra items, leaving you to deal with their disposal. Luckily, there's another option.
If you attempt to remove bulky items on your own, you could end up causing damage to your property – not to mention putting yourself at risk for injury. That's where we come in. At Charlie and Sons, our team of professionals has the training and the equipment needed to quickly and safely remove debris from your property.
Yard waste can become a problem if it is not managed correctly. If left to accumulate, it can block drainage ditches and culverts, resulting in flooding. The resulting standing water can also serve as a breeding ground for mosquitoes and other pests. In addition, overgrown vegetation can provide fuel for wildfires. Proper yard debris management is essential to keeping your property safe from these hazards.
Yard Debris Collection
Yard debris can have a significant impact on the health of your lawn. Grass requires sunlight and nutrients to grow, and debris can block both of these critical elements. This can quickly kill grass, leading to dead spots in your yard. In addition, debris can provide a perfect environment for weeds to take root. Weeds compete with grass for resources, and they can quickly take over a lawn that is already struggling. As a result, it is vital to have that debris removed before it can get out of hand.
Regardless of the size of your property, a professional hauling company like Charlie and Sons can help you out. We serve both commercial and residential customers with reliable service they can count on. Your yard waste problem will be a thing of the past once we're through with it.
Yard Waste Removal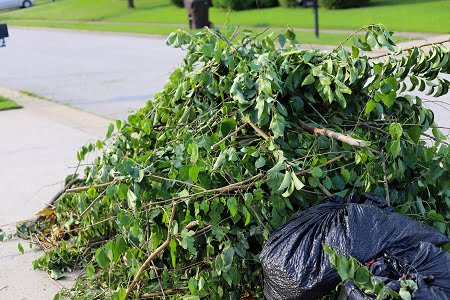 When you're ready to get rid of unwanted junk, the last thing you want is clumsy junk haulers damaging your fencing or trampling over bushes. That's why choosing a professional, reliable company for the job is essential. At our company, we take care to protect your property while we're removing bulky items. We're always careful not to damage delicate plants or other landscaping. Plus, we'll clean up any mess we've made before leaving; our goal is to get your yard looking its absolute best and making your property safer.
You can be confident that your property will be left in better condition when we're done with it. So when you're ready to get rid of junk, give us a call.
Yard Clean Up Near Me
When it comes to yard debris removal, property owners can't afford to cut corners. Not only is it a safety hazard, but it can also lead to costly repairs down the line. On top of that, your local garbage company may not accept it curbside. That's why our team is committed to providing safe, efficient services at a price that won't break the bank – and excellent customer service to match.
We use the best equipment and techniques to get the job done right, and we always put safety first. Not to mention we always check with you before we call a job complete, just to make sure you're completely satisfied. We also bring any recyclable materials to a recycling facility to reuse them. Whether you're a property manager or a homeowner, if you're looking for top-notch cleanup of yard debris at a competitive price, look no further than our team. We'll get the job done right and do it within your budget. Contact us today to get started with an estimate for yard waste management services.