When it comes to selling your home, first impressions matter. Potential buyers are more likely to be attracted to a clean, clutter-free space that allows them to envision themselves living there. One effective way to enhance the appeal and value of your home is through a junk removal service. Clearing out unwanted items and decluttering can have a significant impact on potential buyers' perception of your property.
In this blog post, we'll explore how junk removal can boost your home's value before selling and provide you with valuable tips to get started.
Create a Spacious and Open Atmosphere:
One of the primary benefits of junk removal is the creation of a spacious and open atmosphere within your home. Removing unnecessary items and clutter helps potential buyers visualize the true potential of each room. By creating more space, you allow natural light to flow freely, making your home appear brighter and more inviting. A clutter-free environment also gives the impression of a well-maintained and cared-for property, which can significantly enhance its overall value.
Highlight Key Features and Selling Points:
Junk removal allows you to showcase your home's key features and selling points effectively. When potential buyers enter a cluttered space, it can be challenging for them to notice the unique architectural details, beautiful flooring, or custom fixtures that make your home stand out. By eliminating excess junk, you can draw attention to these desirable aspects and present your home in its best light. This, in turn, can help justify a higher asking price and attract more potential buyers.
Streamline the Staging Process:
Staging plays a crucial role in selling a home. However, it can be a daunting task if your property is cluttered with unnecessary items. Junk removal simplifies the staging process by providing a blank canvas for professional stagers to work with. They can strategically arrange furniture and accessories, creating an appealing and harmonious atmosphere that resonates with potential buyers. A clutter-free space also allows buyers to easily navigate each room, promoting a positive experience during home tours.
Improve Curb Appeal: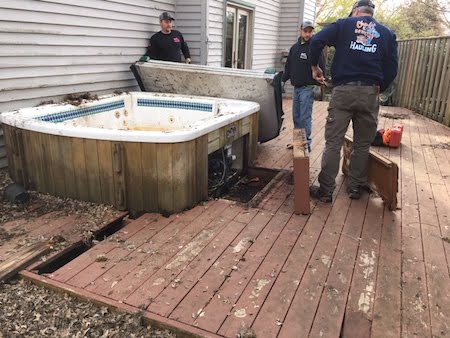 Don't neglect the exterior of your home when considering junk removal. A cluttered yard or driveway can significantly impact your home's curb appeal, which is the first impression potential buyers have of your property. Remove any old or broken items, trim overgrown bushes, and clean up any debris. Enhancing your home's curb appeal creates an inviting and well-maintained appearance, which can substantially increase its value and attract more interested buyers.
Emphasize Storage Space:
Storage is a vital factor for many homebuyers. When your home is cluttered, it's challenging for potential buyers to evaluate the available storage space. By decluttering and removing excess junk, you can highlight the storage areas such as closets, cabinets, and garage space. Clearing these areas demonstrates that your home has ample storage potential, addressing a common concern for many buyers. This perceived value can lead to higher offers and faster sales.
Convey a Clean and Well-Maintained Home:
A clean and well-maintained home is a reflection of care and attention to detail. When your property is cluttered, it gives the impression that maintenance has been neglected or that there may be hidden issues. Removing junk demonstrates that your home has been well-cared for, instilling confidence in potential buyers. This can help increase your home's value as buyers are willing to pay a premium for a move-in-ready, well-maintained property.
Conclusion:
Junk removal is a powerful tool that can significantly boost your home's value before selling. By creating a spacious and open atmosphere, highlighting key features, streamlining the staging process, improving curb appeal, emphasizing storage space, and conveying a clean and well-maintained home, you can make a lasting impression on potential buyers. Remember, first impressions matter, and a clutter-free home sends a strong message of value and desirability. Invest in junk removal, and you'll reap the rewards when it comes time to sell your home.
Your Local Junk Removal Specialists
At Charlie & Sons Hauling, we are a locally owned and operated professional hauling service company that specializes in junk removal in the Portland Metrohome area. We take pride in offering exceptional customer service and providing personal service to all our clients. We have several 1-ton pick-up trucks with dump beds that hold 6 cubic yards, and a dump trailer that holds 12 cubic yards, allowing us to service jobs of all sizes.
In addition to residential and business junk removal, we also offer recycling services to help minimize waste. Our goal is to help you get rid of all unwanted items for less, with fast and efficient loading, hauling, and clean-up. We do the heavy lifting for you. As a community-oriented business, we are committed to supporting the local community and keeping prices low. Choose Charlie & Sons for all your junk removal needs, and let us help you declutter your space with ease.
Our wide variety of efficient junk removal services includes:
Unwanted Junk Hauling (Furniture Removal, Hot Tub Removal, Appliance Removal, scrap metal, and more!)
Yard Debris Removal
Construction Junk Removal (Construction Debris)
Hoarding Cleanup
Moving Cleanout Services (Trash Removal, etc.)
And More!
Call Charlie & Sons today for a free quote!