We've all been there! You're moving, cleaning out your attic, or need to get rid of some office junk. Suddenly it hits you: "I don't have time for this!" Maybe the task seems overwhelming, and you know that it'll take forever if you start removing everything yourself. Don't worry! This is where a junk removal company comes in. But just what can a garbage removal service do for you? Will it take all your unwanted junk?
What are the different types of junk removal?
A full-service junk removal company will tailor its services to suit your needs. After all, different types of waste require other methods to get rid of. Typically, you can expect any of the following when you contact junk removers:
Indoor junk removal
This involves your regular household garbage and other unwanted stuff you don't need inside the house. The service will take out all your trash, regardless of where it is located in the house. Indoor junk removal will include:
-Old carpeting removal
-Old furniture removal
-Appliance disposal
-Pool table removal
-Exercise equipment
And much more!
Outdoor junk removal
This involves debris and other types of garbage you have outside. Junk removal companies can remove junk like old furniture, yard waste, construction waste material (e.g., wooden planks), tree stumps or roots, and other things we don't want outside. It aims to clear your yard of all unnecessary items. Outdoor junk removal will also involve:
-Swing set removal
-Construction debris Removal
-Yard waste removal
-Tree stumps or roots removal
-Pool removal
-Garage cleaning
And more.
Commercial waste removal
Most junk removal companies will not only take out your household garbage but also commercial waste. This typically includes old furniture or equipment from a business that is no longer in operation and packages left behind after deliveries have been made. Commercial waste removal entails:
-Office furniture removal
-Cardboard removal
-Office electronic appliances
-Wood recycling
And more.
Construction junk removal
The last type of service is for professional clean-up after a construction project has been completed. This means that the crew will take out all the debris and garbage that was left behind. It is handy if you have a construction project going on in your house or office building. Construction junk removal would include:
Construction material clean-up, e.g., wooden planks, bricks
-Construction site garbage removal
-Curbside junk pick up
-Drywall removal
-Tile removal
And more.
What junk can't be removed?
The junk removal service will not only take out your trash; they handle most junk removal items. However, some things can't be disposed of due to safety or legal reasons. For example:
-Asbestos disposal
-Shingles disposal
-Chemical waste disposal
-Radioactive materials
-Medical sharps disposal
-Liquids, hazardous chemicals or solvents
How can I prepare for junk removal?
Before you hire junk hauling services, be sure to:
Organize your space
The more organized you are, the easier it will be for junk removal companies to do their cleaning projects. This means you need to have a plan of action, so everything is packed and ready when they get there. Furthermore, make sure all the junk is accessible when the garbage removal service arrives and leave enough space for the truck to park.
Pack up all recyclables
The junk service will take out your regular garbage but also recyclables. Ensure you have all the recycling material packed and ready to go so it doesn't end up in a landfill. This will allow for environmental sustainability and guarantee that not everything will end up in a waste heap.
Ask for a quote
Before you hire a service, make sure to ask for an estimate. The quote will include the amount of time it takes and how much you'll be charged. This way, when they arrive and start working, there aren't any surprises in terms of pricing or timeline. This will also give you a good idea of whether your budget will be enough to eliminate all the junk on your property.
Separate hazardous materials
Some of the junk may be hazardous, and that's why you can't just throw it in a regular bag. This is especially true if you have items made from glass, metal or chemicals. So before they arrive, check what kind of waste you have so everything will be disposed of correctly when they get there.
Schedule the pick-up time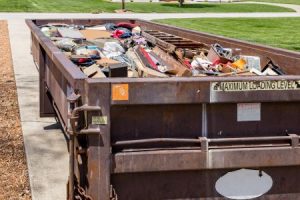 Now that you have all your junk packed and ready, it's time to schedule the date of pick up. Make sure to choose a date that is convenient for you and the junk removal service. This way, they can plan ahead of time without messing up your whole plans for the day.

Why should I hire a junk removal contractor?
There are many reasons why you should hire a junk removal contractor. The main one is safety and convenience. A professional company will ensure that all the items in your property get sorted, picked up, removed, and disposed of appropriately according to local regulations so there won't be any hazardous waste or legal problems. Furthermore, hiring junk removal services will save you time and money.
Come to Us for Junk Removal?
Whenever you need hoarding clean-up in Portland at your home or office, Charlie & Sons is here to help you out! We offer affordable rates, efficient service and guaranteed satisfaction. Call us or fill out our contact form to get a free quote for all your junk removal needs!