If you are like most homeowners, the idea of having someone clean your house usually brings up thoughts about safety. We understand that a part of you probably wonders if your junk removal professional can do the job without your supervision. So, will a junk removal company render its services without you being present on-site?
How does junk removal work?
Junk removal companies provide property owners with the essential service of eliminating old and damaged items they consider obsolete from their premises. They have special trucks, tools, and equipment for this task. When you contact a junk removal service, they will provide you with junk removal prices based on the amount of stuff that needs to be removed. They will then come and grab your items from anywhere in your home or office, breaking down large pieces if necessary to fit them into their truck. Once everything is loaded onto the vehicle, they will take it away for disposal at a recycling/trash facility. It is important to note that the junk removal professionals will not dispose of all household junk you put out; there are hazardous substances they may not be able to handle.
Can a junk removal service do its work when I'm not around?
The short answer is yes. There are no laws that require you to be present when the junk removal companies come over. However, it's still good practice for them not to have access to certain areas of your home or office without supervision just in case they encounter something unexpected. A waste management service should always clean up after themselves and leave everything better than they found it. If you happen to find a reputable and trustworthy junk removal business, you shouldn't have to worry about how they do their job unsupervised.
What can I do to ensure stress-free junk removal?
While you may not always be present to ensure the junk removal process goes smoothly, there are a few things you can do to make the task easier for both you and your service provider. Remember to do the following before contracting junk haulers:
Consider the type of junk to be removed
Your full-service junk removal provider needs to know what they are dealing with before arriving at your property. Understanding the nature of what they are removing will help them develop a strategy to get everything out of your house or office in one go. This will also help them to plan how to dispose of the unwanted stuff safely. For example, are there any recyclables, or will all the waste materials end up in landfills?
Ask about their process for junk removal
Find out if the junk removal business has any specific rules regarding how items that need to be removed should be packed, stored, or loaded onto their truck. If you need the furniture to be disassembled, make sure they will do that for you or let them know beforehand so it can be taken care of before their arrival. Also, find out if any items require special handling and what kind of equipment is needed for this task (if necessary).
Make proper preparations
If you're expecting a lot of junk to be removed, make sure there is enough room to work and that the area where the local junk removal industry provider will load everything has proper access. It's also crucial for them to know exactly where they can find the items since you might have several piles or storage spaces in your house/office. You could mark the items that need removal with a specific color of paint or uniquely label them to easily be seen.
Choose between truck hauling and dumpster rental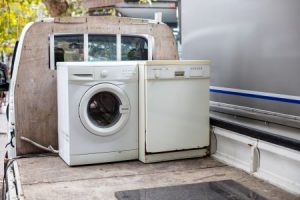 There are pros and cons to both options. If you need a lot of junk removed from your property, it's going to be more cost-effective if there is enough space on the truck that will come over to haul away all your items rather than renting a dumpster. However, renting a dumpster might be the more reasonable option if the process takes longer than a day (like during home renovations). It will also spare you the hassle of having to keep track of where all your junk is stored while it's waiting to be removed.

Know what items they won't take away
When you hire a junk removal company, there are certain items they won't be able to take away. For example, carpeting and rugs will need to be disposed of by your local city services. At the same time, hazardous materials like chemicals or gas canisters require special disposal methods that may not always leave everyone involved in the process completely safe. Make sure you find out what items your professional junk removal services provider won't be able to take away before they arrive at your property.
Can I remove junk on my own?
If you have enough time and physical strength, there is no reason why you can't complete the task of hauling away junk yourself. However, suppose your trash pile consists primarily of large items like furniture or appliances that are too heavy to move around. In that case, it's probably best to leave this kind of work for a professional since you could injure yourself in the process. Not to mention that you need special licensing to haul away hazardous waste. Hiring a professional junk removal service will provide convenience and save you time and energy!
Your Local Home Clean Up Professional?
Charlie & Sons are one of the top professional junk removal companies in your local area. We are fully licensed with all proper certification, insurance, and safety equipment for handling all kinds of junk; you can rest assured our junk hauling team knows what it's doing. Please send us an email or give us a call when you need contractor clean-up Portland services.