Can't Fit Your Car in the Garage?
You're not alone. If you're trying to prepare your home for a clean up here in Portland, follow our guide to get your garage in its best shape yet. Before you start your project, you can schedule a professional from Charlie & Sons with an estimate of how much you need hauled off.
Charlie & Sons is a Portland junk removal service with great rates. No job is too big or too small for us. Just call us with the details, and we'll come out to haul your junk away! From household items such as mattresses and televisions to big clean outs, such as yard waste removal– we can handle it all!
3 Steps to Organize Your Garage
Organizing your garage doesn't have to be a painful process, especially when you hire Charlie & Sons for any hauling services you may require. If you follow these simple guidelines, you may find that your clean up goes easier than you thought it would!
1. Remove Everything from the Garage
That's right. Everything. One of the best ways to organize your garage is to first remove everything. Start with the items As you take things out of the garage, sort them into three piles:
Keep. You'll want to set aside an area for the items you plan on storing in the garage. Keep a look out for things that don't necessarily belong in the garage, considering your intended use for the space. For example, if you want to use your garage as a workspace, you should consider moving your holiday decorations into the attic.
Donate. With every item you take out of your garage, you should ask yourself a few different questions. When was the last time I used this? Would someone else get more enjoyment out of this item if I donated it? Hopefully, these questions help you make decisions more efficiently.
Recycle. Sometimes you'll have items that aren't in a condition suitable for donation but you don't want to keep. Most things can be recycled. Perhaps you can find another use around the house for these items. You can call a company like Charlie & Sons to haul away large items to be recycled. Otherwise, the last resort would be to throw the items away.
2. Clean and Plan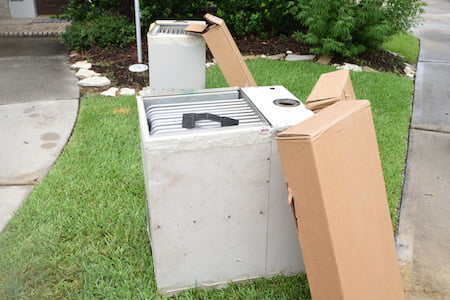 To save time and organize your garage so that it best serves you and your family, it's important to plan out the space. Create your dream floorplan for your garage and your optimal storage solutions for your and yoru family's needs. Perhaps you should hang shelves for storage, or make space for tools and a work area.
While everything is out of the garage, it's the perfect time to sweep the floor and install shelves or hooks to store your belongings. Watch out for nails and other debris on the floor while cleaning.
3. Maximize Your Space
Depending on what you've decided to keep after cleaning and sorting your items, you'll want to maximize your storage space so that you can use your garage as you want. If you want to use your garage as a wood shop, you'll likely want to install pegs and hooks. If your garage space is primarily used as storage, you can install shelving and other space-saving organizational tools so that you can find the items you need when you need them.
---
How Can Charlie & Sons Help?
If you're planning spring cleaning and you know you'll need to get rid of appliances, junk, or garbage– you should give us a call at Charlie & Sons Hauling in Portland. We recycle everything we can, and we are committed to eco-friendly service to our community. Call today for an estimate!