Moving is usually a stressful process for many homeowners! It requires sacrificing a good chunk of your time, effort, and money. If your home is like any other, chances are there is a lot of clutter that you won't be needing when you shift to a new house. This is where seeking out junk removal services comes in handy. This post looks at how a junk removal service can help take care of unwanted household items when you move.
What is a junk removal company?
Junk removal companies are the people you call when your move is nearly over, and there's a lot of clutter and unwanted junk lying around. They have big trucks that help easily transport all kinds of items from one place to another, which would be difficult for a homeowner. They also have the licensing to dispose of all this trash in designated areas. All they need to do is swing by your place, load up all the junk you want to be removed in their trucks, and off they go.
How can junk removal help with unwanted household items?
Junk disposal companies are experts at taking care of unwanted stuff and clutter in the house! They already have trucks suited for this kind of job, so if you think about it, hiring them means you don't need to worry about how your household junk will be transported and where it should go! As long as they're willing to take it away for you, the problem is solved! Typically, the junk removal industry will offer you two options to remove the clutter in your home. These include:
Truck hauling
This process involves the company dispatching its truck to your location, where you point out what needs to be taken away. The junk removal staff will load everything up in their vehicle and drive it off for safe disposal elsewhere. This is an excellent option for people moving houses and needs the entire clutter removal process to end in one day.
Dumpster rental
A dumpster rental involves the junk removal companies delivering a dumpster to your doorstep for you to fill up. Once that's done, they will come and pick it up from there. This is an excellent choice if you have been collecting junk for many days or weeks, in which case a truck may not be able to haul away all of them in one go. If you are conducting home renovations that will last some time, you might opt for a dumpster rental.
What type of junk do they take?
Almost anything! Junk removal services are happy to remove all kinds of clutter, whether furniture disposal or household appliances. They can even dispose of building materials and scrap metal for you. In fact, the only thing they won't accept is hazardous waste such as chemical bottles without a cap on them, which could cause some damage if they're not disposed of properly. Contact junk removal service to take care of your:
-Damaged electrical appliances
-Obsolete furniture removal
-Yard waste
-Scrap metal
-Building materials
-Old mattresses
-and much more.
All you have to do is point out what needs removal, and they will remove it for you! You might be surprised at how many items you can throw away in one go with the help of other junk removal companies!
What won't junk removal companies take?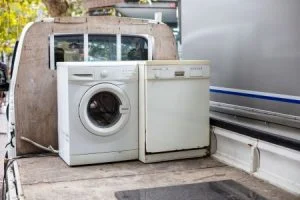 Before you call them over, there are some items that these companies might not accept. For example, hazardous materials such as chemicals. Other examples include:
-Old paint cans (unless they've dried up)
-Empty gas cylinders (you'll have to pay to get them removed)
-Asbestos (which has to be handled by a professional removal company only).
In short, if you're thinking of junking an item that isn't listed here, it's best not to take the risk and check with the agency first. In most cases, they will tell you all you need to know about the professional junk removal service.

How do these companies get rid of the junk?
Junk removal agencies have staff that will load up your junk and drives it off to a recycling facility where the items can be repurposed or recycled accordingly! This means you won't just get rid of all those old items but also help reduce landfills by doing so. Most junk removal companies will aim to protect the environment during disposal. The items will be sorted out, and any salvageable junk like toys and clothing may be delivered to children's shelters and charities. This helps ensure that your old items can continue to benefit people even after you no longer need them! For this reason, you might want to ask your full-service junk removal provider how they dispose of the items to find one that supports environmental sustainability.
How much does junk removal cost?
Junk removal services are pretty affordable. We offer as little as single item pricing on certain items starting as low as $85.00. The price will depend on how much work is involved and what needs disposal. If there are not too many items that need removing, the cost might be lower. If you have a lot of stuff, then expect to pay slightly more than average for this service as it will take the company longer to haul away your items. Another thing that affects the price is whether or not they can recycle any of the junk in question!
Let Us Take Care of Your Junk!
Charlie & Sons is a full-service junk removal Portland company offering a range of services to home and business owners. We'll be happy to take away all your junk, including old furniture, scrap metal, and much more, for safe disposal! Give us a call today and get all the information you need about our services.