Hoarding Disorder
The first and most important thing to know about hoarding is that it is a disorder and is often accompanied by other mental illnesses like depression, anxiety, and ADHD. Hoarding disorder is more common than most people realize and affects roughly 2-6% of the population. If you are helping someone with a hoarding disorder to clean up and organize their residence, there are several steps and useful tips that can make the process go more smoothly.
Working with someone that has a hoarding disorder requires kindness and compassion. Do not judge or make fun of them and avoid referring to their possessions as junk or garbage. These kinds of actions can make the person feel resentful and defensive, making it even more difficult to part with their belongings. While the majority of people view these items as little to no value, someone with a hoarding disorder believes everything they have to be of specific value or usefulness regardless if they actually use them.
The main challenge with hoarding is that even after the person's home is cleaned and organized, they will most likely begin to hoard items immediately afterward if they do not receive professional help to manage this condition.
Hoarding Therapists
Because many people don't realize that hoarding is a type of disorder, they're unaware that there are people who specialize in helping with these kinds of things. These processes require more than just the manual labor of junk removal and cleaning; they also require compassion and empathy. Numerous therapists specialize in helping those who are suffering from a hoarding disorder.
A hoarding therapist will meet with you in your home, as this will provide more comfort and effectiveness. The type of therapy these specialists provide focuses on support, appropriately paced progress, and control. In addition to individual therapy, there are also group therapies and programs that allow other people suffering from a hoarding disorder to meet, promote mutual support, and share their experiences and stories.
Risks Of Hoarding
Hoarding is a type of disorder that affects not only the individual person but also their friends and family. Most people with a hoarding disorder are not inclined to ask for help because they are either embarrassed or because they have been judged and mistreated because of their condition. Some people think they don't even need help because they are unaware of the seriousness of their problem.
Friends and family members often try to persuade the person that they need help and that the way they are living is not healthy. But these attempts are typically met with disregard or defensiveness and can put an emotional strain on relationships. It is crucial that a person with a hoarding disorder receive the professional help that they need.
In addition to relational problems, severe hoarding also posing a significant threat to a person's health. Numerous complications occur in the home of someone that has been struggling with hoarding for a long time. Some of these health risks include:
Pests
Unclear Walkways
Unusable Bathrooms
No Utilities
Structural Damage
Pollutants In The Air
Fire Hazards
And More
When cleaning these types of houses, you may need to reach out to specialists that can properly dispose of certain hazardous materials. These projects are not something that is completed quickly or easily. Depending on the size of the home and the severity of the hoarding, it can take days and sometimes weeks to get them clean again.
Cleaning The House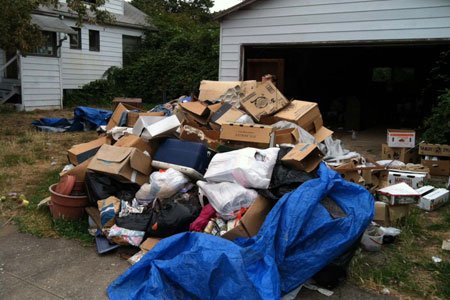 Tackling the decluttering and cleaning of someone's home can be overwhelming and often requires days and weeks of dedication. The most effective way to handle this is to evaluate the area and establish a cleaning strategy. Diving straight in without a plan can cause you to burn out from exhaustion without making any real progress.
The first thing you should do is gather all the necessary equipment. For severe hoarding situations, protective gear is a must. Make sure to bring gloves, masks, sturdy boots, and eye protection. Additionally, you will want to get a hefty amount of cleaning supplies; trash bags, boxes, disinfectants, brooms, sponges, a vacuum, and more.
Before you get started, reach out to a junk removal specialist like our team at Charlie and Sons Hauling for help removing all unwanted materials!
The best approach to cleaning out overly cluttered homes is to start small. We recommend starting with the bathroom because it is generally the smallest room in the house, and it will provide a clean restroom for people to use throughout the process. When you begin to declutter, work from the top down. Doing this will be the most effective way of removing everything and allow you to clean the space thoroughly.
The hardest part of cleaning someone's home who has a hoarding disorder is sorting through all of the items. Sorting everything into categories is the best way to get the job done quickly and efficiently. Begin by creating piles of items that are being kept, thrown away, recycled, and donated. When getting rid of things, it is best to do it as soon as possible, and that is where we come in.
Junk Removal
At Charlie and Sons, we are junk removal specialists. Our team provides loading, hauling, and clean up for all of our services! We own numerous pickup trucks with dump beds that hold 6 cubic yards, and for larger projects, we have a trailer that holds 12 cubic yards. With our experienced team and top-notch equipment, we can provide quick and effective junk removal services consistently.
Our team can haul away a variety of unwanted items, including:
Appliances
Furniture
Carpets
TV's
Tires
Electronics
Garbage
Household Debris
Whether you're doing a home remodel, getting rid of old appliances and furniture, or helping someone with a hoarding disorder clean out their house, you can rely on Charlie and Sons to be there! Since 1994, our locally owned company has maintained a reputation for being reliable and professional! Give us a call the next time you need junk removed; no matter the size of the project, we'll get it done!